550 SERIES - DC POWER SUPPLY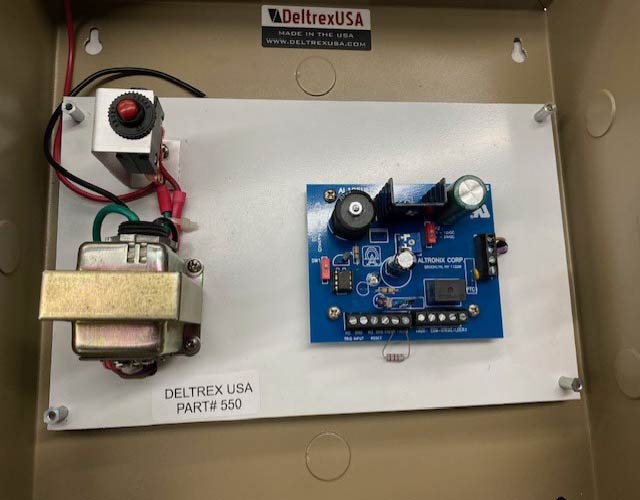 The Power supply is designed to convert a 115VAC, 60 Hz into 24VDC/12VDC output in order to route power to a variety of access control hardware devices and accessories. The Power supply needs to be rated for enough voltage to supply power to the Access Panel, Lock, Electric Strikes, Magnetic Door Holders, etc. Typically properly specified power supplies can power more locks and have separate power relays to provide surge protection.
One of the most common malfunction of a system is about failed power supply, lock or access control operation. These malfunctions can easily be avoided by specifying or installing a power supply properly designed and tested for use with access control products.
#550
#551
#5512
#552
#554
#556
#559
750mA  @ 24VDC
1.25A    @ 24VDC
1.25A    @ 24VDC
2.50A    @ 24VDC
4.00A    @ 24VDC
6.00A    @ 24VDC
9.00A    @ 24VDC
115VAC input
115VAC input
220VAC input
115VAC input
115VAC input
115VAC input
115VAC input
Short circuit protection.
Field selectable 12 or 24 Volt DC output.
Filtered and electronically regulated DC output.
AC and DC power LED indicators.
Battery charging circuit.
Switchover to battery power is instantaneous in event of a loss of current.
Multiple listing for various applications.
UL294 component listed for access control unit.
Enclosure dimensions: 12.5"x12.5"x4" with universal knock-outs.
KL-    Cam lock key for the enclosure.
NF-    Main power switch on/off built in the            side of the enclosure.
ERI-   Fire panel emergency release                      interface module, instant unlock                  upon power failure.
FPD-  Multi panel interconnect-fire disconnect
B25-   Back up battery pack 12V/5AH with             cables (enclosure size varies)
B28-   Back up battery pack 12V/8AH with              cable (enclosure size varies)
X-      For different size enclosures, add                 suffix X to series number and specify             size.
Please specify your order by : "Series Number - Option"
Example: 552-ERI
             5521-KL-B28-X15.5X13.5X3
Place your Order by contacting:
Email: contacts@deltrexusa.com
Phone: 718-401-4006