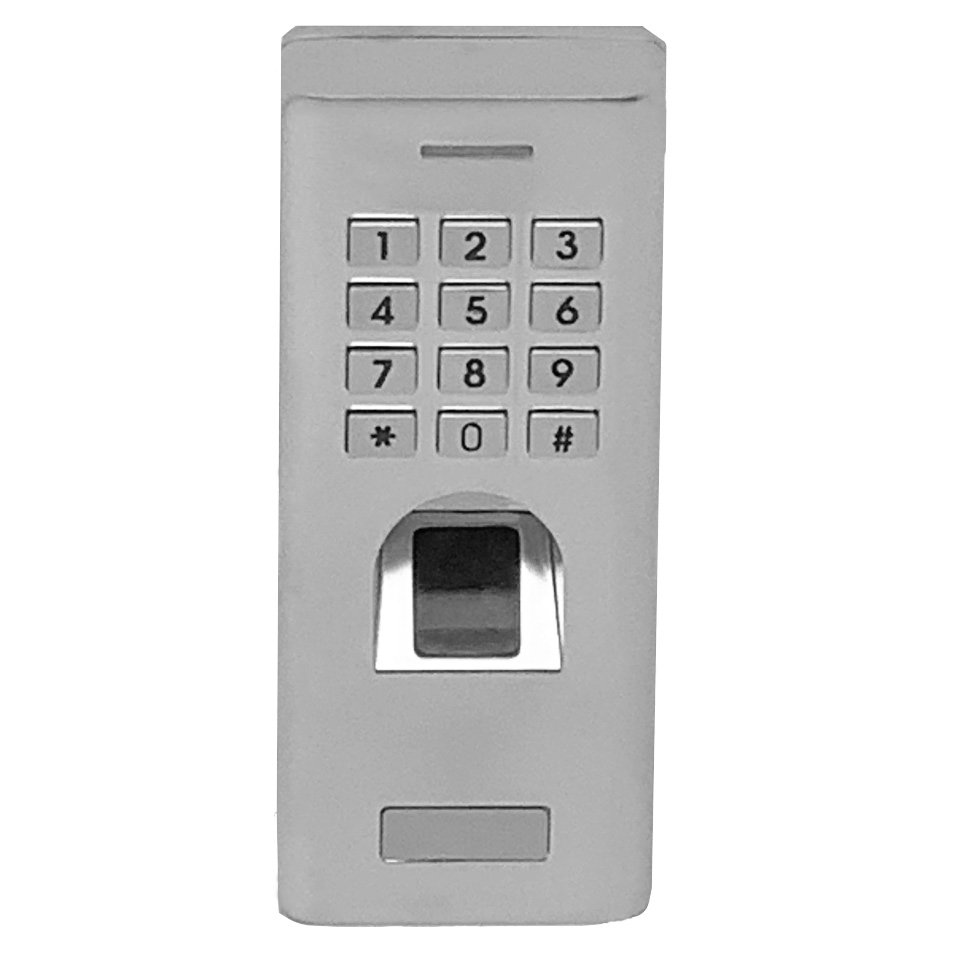 Introduction
The device is a waterproof metal case standalone fingerprint access control with keypad. IP66 waterproof makes it very suitable for outdoor use.
The device supports up to 1000 fingerprint users and 2000 PIN users, with Wiegand 26-44 bits output, it can also work as a slave reader to connect to a 3rd party controller.
The device supports fingerprint access, PIN access and multi users access; with external alarm, door conttact, exit button.
Main Features
Waterproof
Metal case, anti-vandal
One programming relay output
1000 fingerprint users, 2000 PIN users
Wiegand 26-44 bits output
Standalone or pass-through operation
Multi PINs / fingerprints access
Support setting Authorized Users
2 devices support interlock for 2 doors
Latch Mode to hold door or gate open
Anti-tamper alarm
Multi-color LED status display
Integrated alarm &buzzer output
| | |
| --- | --- |
| User capacity | 3,000 |
| Fingerprint | 1,000 |
| PIN | 2,000 |
| PIN Length | 4-8 digits |
| | |
| --- | --- |
| Operating Voltage | 12V DC ± 10% |
| Idle Current | ≤ 45 mA |
| Active Current | ≤ 150 mA |
| Wiring Connections | Relay outlook, Exit Button, DOTL, Alarm, Wiegand Output |
| | |
| --- | --- |
| Fingerprint Reader | Optimal Fingerprint Module |
| Resolution | 500 DPI |
| Identification Time | ≤1S |
| FAR | ≤0.01% |
| FRR | ≤0.1% |
| | |
| --- | --- |
| Physical | Zinc-alloy Enclosure |
| Surface Finish | Powder Coat |
| Dimensions | L137 X W58 X D26 (mm) |
| Unit Weight | 400g |
| Shipping Weight | 500g |
| | |
| --- | --- |
| Relay | One (NO, NC, Common) |
| Ajustable Relay Output Time | 0-99 Seconds (default: 5 seconds) |
| Ajustable Alarm Output Time | 0-3 Minutes (default: 1 minute) |
| Lock Output Load | 2 Amp Maximum |
| Alarm Output Load | 5 Amp Maximum |
| | |
| --- | --- |
| Contact us | |
| Email: | contact@deltrexusa.com |
| Phone | (718)-401-4006 |
| Website | DeltrexUSA.com |
| Address | 415 Concord Ave Bronx, NY 10455 |