902 – DeltrexUSA Access Control for 2 Doors
149 – Vandal Resistant Push Button Switch
November 2021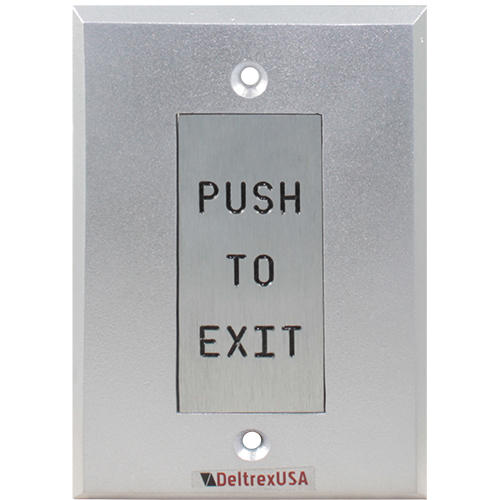 149 series Vandal Resistant Buttons are electrical switches designed to be installed in a location and application where they may be subject to vandalism or tampering, as in the case of pedestrian crossing switches, public and industrial spaces or fraudulent or unauthorized use, as in the case of vending machine switches.
---
902B – Access Control System
November 2021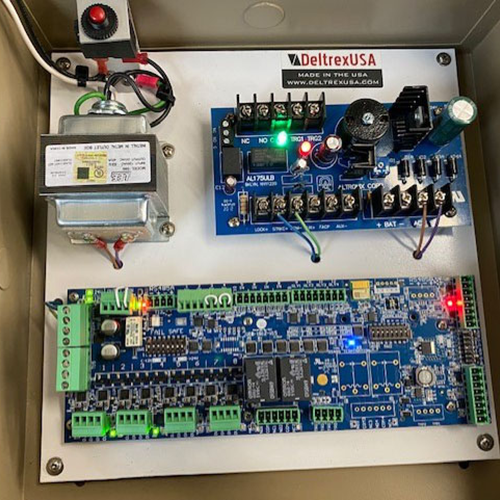 DeltrexUSA offers the #902B-System 2 Door Mantrap with Power Supply. The #902B-System comes in three different option:
902B – For 2 Manual Doors
902BA – For 2 Auto Operated Doors
902BC – For 1 Manual Door and 1 Auto Operated Door
It can be used for different applications such as airports, banks, health care facilities, data centers, security vestibules, and clean room environments.
---
100SW Low Energy Operator
November 2021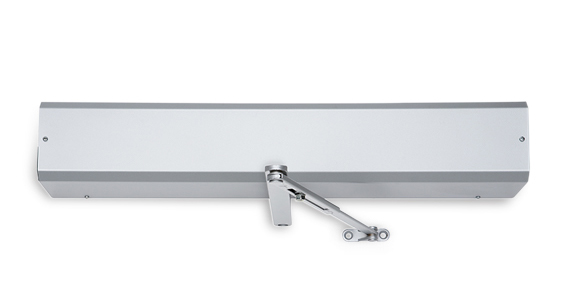 Check out our 100SW Low Energy Operator. With an innovative mechanical design, the 100SW Low Energy Operator provides all of the necessary features for accommodating the elderly or physically challenged. This product is engineered for interior and exterior use which aids in reliable performance.
---
No Touch Solutions – Hands Free Activation #117 Series 
September 2020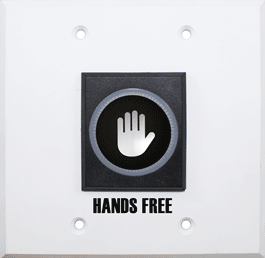 This product features a passive infrared exit switch which is designed to reliably release magnetic locks. It automatically cuts power to the lock, allowing the individual to exit without even realizing that the door is secured. This features two switches which are the F117, a 1-gang box, or the D117, a 2-gang-box.
---
No Touch Solutions – Hands Free Activation DREX #425
September 2020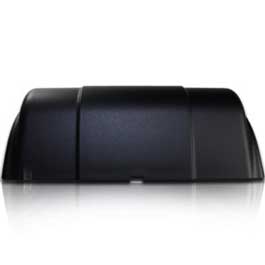 The DREX is a sophisticated and cost-effective request-to-exit device for all access control applications and an alternative to installing an exit button. Outstanding innovations such as X-Y targeting and Digital Signal Processing (DSP) implementation make the DREX the fastest and most reliable exit detector available.
---
Electromagnetic Locks – Safety in Residential and Commerical
July 2017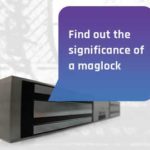 Maglocks are important in door security, but what makes them so special? Read more – Maglock Applications
---
Electric Strike Applications Infographic
July, 2017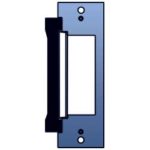 There's a special place in our hearts that is saved up for the love we have for electric strikes. We share with you some information we believe will help you understand the purpose of this device.  Read more – Electric Strike Applications
---
Access Control Wiring Assistance
May, 2017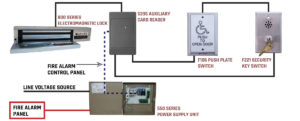 Maglocks and key switches can be a pain to wire together….Read more – Access Control Wiring Diagram
---
Become A DeltrexUSA Assosiate
April, 2017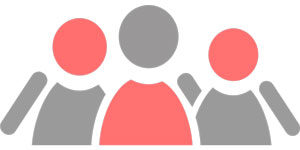 Every DeltrexUSA product comes with a manufacturing guarantee up to 3 years. This ensures the highest quality and gives you peace of mind when installing our products…Read more – Become a DeltrexUSA Associate
---
The Intelligent Local Door Alarm By DeltrexUSA
December, 2016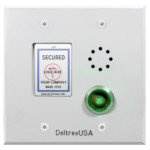 What is it?
Our Intelligent Local Door Alarm or iLDA for short, is an innovative Bluetooth® enabled door alarm. The iLDA mounts into a standard two gang electrical box, powered from 10vdc-32vdc, has a built in 2.6" LCD showing various door conditions such as: Secured, Alarm, Held Open and others and uses the iButton digital key in lieu of traditional mechanical arm/disarm keys.
Bluetooth® Functionality
Shunt/Bypass/Silence and other features can be performed locally using the iButton, iPhone or remotely from any Access Control System (ACS). iLDA provides four dry relays programmed via onboard jumper to allow for supervision: NC, 1K, 1K/2K. There is no need for external EOL supervision resistors. Outputs are Bluetooth® programmed to provide conditions such as: Alarm, Shunt, Held Open and "Door Mimic" for which there is no need to drill the door's frame for multiple Door Contacts (DC/DSM). iOS Bluetooth users are divided into two groups: Managers and Security officers, each with unique rights.
Flexible Inputs
Flexible inputs allow for remote shunt, remote bypass, remote reset as well as "Lock Voltage Sense" for both Fail Safe and Fail Secure 12VDC/24VDC locks. Local built in Database allows for validating/invalidating over 50 "digital key" users.
Custom Features
The iLDA is available with or without LCD display. LCD allows integrators to enter 5 lines of text and/or their end user's Logo. In addition to many other built in features, the iLDA can be custom programmed as per customer's requirements.
For complete information and specs visit this page: iLDA or call 1-718-401-4006
---
We built a machine that puts our push plates to the test…[Update]
November, 2016
DeltrexUSA has crafted their own machine to test the longevity of their customized push plates. Our machine has pushed our product approximately 600,000 times!
---
Doors and Hardware Spotlight
August, 2016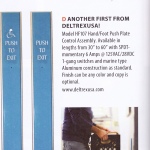 The Doors and Hardware magazine highlighted one of our unique products. For a closer look please click here or follow this link: https://goo.gl/Pf530D
DHI website: http://dhi.org/
---
Locksmith Ledger Magazine Spotlight
August, 2016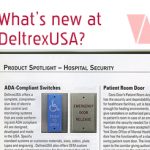 Follow the link for the Locksmith Ledger magazine page that highlights our high quality products: https://goo.gl/ixMLgX
---
Opportunities in Access Control by Isac Tabib (Vice President of Technology)
April 2016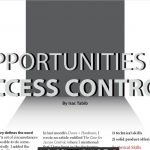 The Vice President of DeltrexUSA, Isac Tabib, has published a second article in the April 2016 edition of the "Doors & Hardware" magazine. To read more about this, please download a copy of his article by clicking here.
---
The Case For Access Control by Isac Tabib (Vice President of Technology)
March, 2016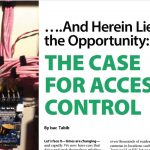 DeltrexUSA's own "Vice President of Technology", Isac Tabib, has published an article in the March 2016 edition of the "Doors & Hardware" magazine. His article elaborates on the access control systems and his goal to "make it a functional and compliant system, while reducing high maintenance costs for our customers and ourselves". To read more about this, please click here or on the link provided below.